Historical Photo Page
Richardson Labs 1919 *
Just an empty lot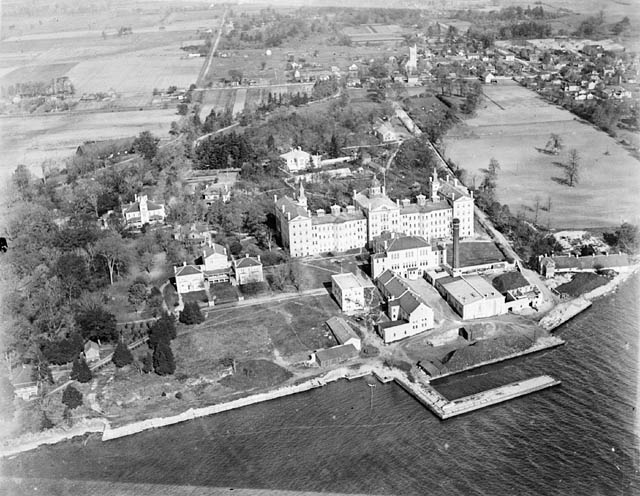 Kingston General Hospital
Still an empty lot
Richardson Labs 1924
Located beside Etherington Hall, the Richardson Laboratory was completed in 1925 for the joint benefit of Queen's University and the Kingston General Hospital.
The money for the construction was provided by the Richardson family, especially by Mrs. H. W. Richardson, who expanded on a gift left by her late husband.
Douglas Wing (3 floors) opened in 1925 October
Aerial Queen's University and KGH Post 1924 showing Richardson Lab and Douglas Wing
Richardson Labs 1962
Floors 4 and 5 added (also floors 4&5 to the Douglas Wing, KGH)
Aerial Queen's University and KGH Post 1968 and Pre 1971
Connell Wing construction
Richardson Labs 1989 *
Prior to the upcoming renovation in 1992, Level 5 held faculty and administration offices, a resident room and the library. Level 1 held the amphitheatre and research labs. Level 2 (ground floor) held research labs and seminar rooms. Levels 3 and 4 were research labs.
1989 KGH and campus
1989 KGH and Campus Aerial 5300x3600, 3mb

Richardson Labs 1990
From 1992-1994 The building was completly renovated, moving faculty and admin offices to Level2, seminar rooms and the amphitheatre to Level1, and devoting Levels 3-5 to research labs. The Library was on Level3.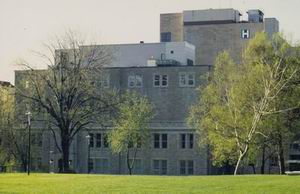 Richardson Labs 1996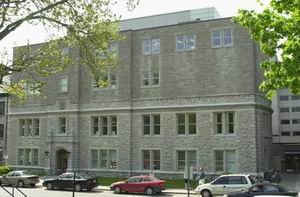 Richardson Labs 2002
after renovations to spit up (2008 September)the library (Richlab306) into a Postdocfellow room (306A), a faculty office (306B) and the new library (306C), and also after the amalgamation of Richlab401 into Richlab412 (2008 September)
Floor plans prior to 2008 September)
* Photo credit Queen's University Tricolour Yearbook
---
This page http://www.path.queensu.ca/alumni/photos.htm is maintained by the kellk (at) queensu (dot) ca

Page Created: 2005 February 11
Page Last Updated: 2018 November 16